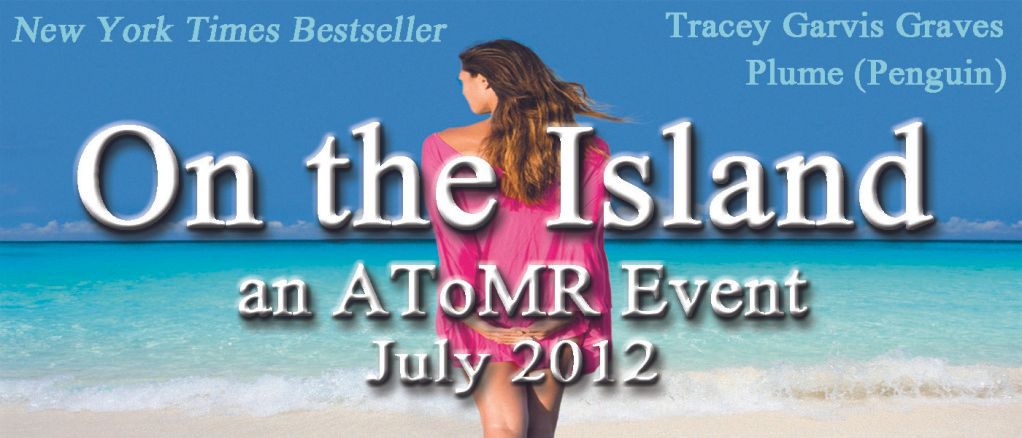 Oh my, the On the Island book tour is here! I've been so excited for this tour stop, more than I will let on. Or is it really obvious now that I said it? Thank you to AToMR Blog Tours for giving me the chance to read this book for free and have a blast reading it and now, promoting it. Already an internet sensation with more than 7,000 reader reviews and ratings (GoodReads & Amazon), the book is already a national ebook bestseller. Now with the Plume publication, and a movie deal in the works from MGM and the producers of the Twilight movies, ON THE ISLAND is sure to become the most talked about book of the summer and beyond. So without further ado, I give you On the Island!
About On the Island
When thirty-year-old English teacher Anna Emerson is offered a job tutoring T.J. Callahan at his family's summer rental in the Maldives, she accepts without hesitation; a working vacation on a tropical island trumps the library any day.
T.J. Callahan has no desire to leave town, not that anyone asked him. He's almost seventeen and if having cancer wasn't bad enough, now he has to spend his first summer in remission with his family – and a stack of overdue assignments – instead of his friends.
Anna and T.J. are en route to join T.J.'s family in the Maldives when the pilot of their seaplane suffers a fatal heart attack and crash-lands in the Indian Ocean. Adrift in shark-infested waters, their life jackets keep them afloat until they make it to the shore of an uninhabited island. Now Anna and T.J. just want to survive and they must work together to obtain water, food, fire, and shelter. Their basic needs might be met but as the days turn to weeks, and then months, the castaways encounter plenty of other obstacles, including violent tropical storms, the many dangers lurking in the sea, and the possibility that T.J.'s cancer could return. As T.J. celebrates yet another birthday on the island, Anna begins to wonder if the biggest challenge of all might be living with a boy who is gradually becoming a man.
My Review
I stayed up until six in the morning just to finish this book. SIX IN THE MORNING! Never mind I had to wake up two hours later for mass, I just had this need to finish this book right there and then and I knew that I'd be disappointed in myself if I wasn't able to do it. And I knew I wouldn't be able to focus during mass because I'd think about Anna and TJ and I would want the mass to end as soon as possible so I can read it. That's how addicting this book is. No wonder it's now a bestseller.
It's not without flaws, I can pretty much enumerate its flaws. You have to completely have faith in the book with whatever plot and conflict it will bring your way. You need to suspend disbelief to completely enjoy this book. The situations seems far-fetched but I don't know, maybe the plot has some basis and grounds. (spoiler) How convenient of their luggage to wash ashore, for dolphins to save TJ and all that stuff. Still, even with all that, you still get along for the ride because even if how rocky the road may be, you're in the right company and it's an awesome trip you're having.
I love both characters, Anna and TJ. They are so endearing and you can't help but root for them. I was iffy on the age gap because heck, that's thirteen years! In the end, they convinced me that age is just a number for the couple in love but the society gives it meaning. Society imposes its norm, that this is wrong, when there is absolutely nothing wrong. Maybe I am not really into older girl-younger boy romances because I have a younger brother and I see younger guys as younger brothers at this moment. Maybe that will change but I don't know. Still, they made me ship them, but with cringing still since TJ's still a boy in my eyes. But I am wrong, he's young but he's not a boy.
The ending was a neatly tied bow with sprinkles on top. Seriously, this is the thing you should read when you're down in the gutter and need some cheering up. You definitely have it better than two people stranded in an island, living there for years. Whatever problem you have, that's surmountable! If they can survive in the island, so can you survive this life. That life has its crests and troughs like waves and you're just on a rough trough right now. And you get to read a romance so good. Win-win!
So go now and read this book and believe that you can find love even in the most hopeless places. :)
My Rating: 4/5 stars
About Tracey Garvis-Graves
Tracey Garvis Graves lives in a suburb of Des Moines, Iowa with her husband, two children, and hyper dog Chloe. This is her first novel. She loves hearing from her fans, and can be found at on Twitter @tgarvisgraves and at facebook.com/tgarvisgraves.
Links
Amazon: http://www.amazon.com/On-Island-Tracey-Garvis-Graves/dp/014219672X/ref=tmm_pap_title_0?ie=UTF8&qid=1342209222&sr=8-1
Barnes & Noble: http://www.barnesandnoble.com/w/on-the-island-tracey-garvis-graves/1111454772
Goodreads: http://www.goodreads.com/book/show/15506110-on-the-island
Author's website: http://www.traceygarvisgraves.com/
Facebook: http://www.facebook.com/tgarvisgraves
Twitter: @tgarvisgraves, https://twitter.com/tgarvisgraves
Giveaway!
Directing you to this Rafflecopter HERE, where you can win one of ten signed On the Island print copies! What are you waiting for?
Follow the tour!
Just click on the tour banner on top of this post for a chance to win in the scavenger hunt!
Thank you for participating in the ON THE ISLAND Event! This week in addition to reviews and posts, select blogs are hosting a word from the author's favorite quotes in the book as a Scavenger Hunt! There is one quote from Anna and one from T.J. Visit each stop this week to find the hidden words (they will be numbered for order) and after July 22nd, submit your answer to the quotes here! Random winners for books and swag will be chosen and notified by July 29th.
Also, next week July 23-27, there will be even more events and chances to win the book and swag!
Monday, July 23 at 8:00 pm CST – Chat with the author Tracey Garvis Graves! We will be chatting with the author on Savor Chat: http://www.savorchat.com/chat/on-the-island-chat Come join us! (You can sign in with twitter or facebook)
Each day look at #ontheisland on twitter for random shout outs to win books and swag! @Tale_of_Reviews
ON THE ISLAND released in bookstores Tuesday, July 10th! If you see the book in stores or 'in the wild' take a picture. Please tweet it and use hashtag #ontheisland. Or you can post it to facebook! Please submit twitter and facebook links of your post/tweet here!  All entries need to be submitted by July 29th.