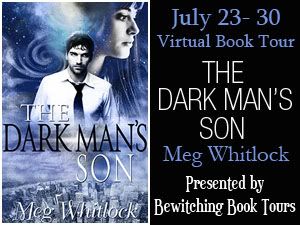 So today, I have The Dark Man's Son, the first book to the Guardian Chronicles series, visiting my blog and Meg Whitlock providing an accompanying playlist for all of us to listen to. There's also a giveaway! I really wanted to review this book but time constraints so I can't read it in time. Rest assured I will be posting a review someday, whenever that is. Haha! So now, I present to you, The Dark Man's Son!
About The Dark Man's Son
She claimed the muggers were demons, but of course Jason didn't believe her. At first.
When a mysterious woman appears in a dirty alley to rescue Jason Latimer from a pair of muggers, he tries to write her off as a garden variety lunatic. But he can't shake the memory of her intense green eyes that seemed to flash gold, or the glowing sword she'd worn on her hip.
She calls herself Alex (no last name) like she'd made it up on the spot, and she offers Jason her protection. From what, she can't or won't say. He refuses, and that night he dreams of a dark man with the same offer. His black eyes flash blood and garnet, and he smells of burning things. Jason refuses him, too.
A chance meeting brings Alex and Jason together again, and she tells him of the Guardians: two immortal beings created near the beginning of time with the express purpose of fighting for mortal-kind's soul. She is Light, and the man from Jason's dream is Dark. Jason must choose, because Lucifer, for reasons purely his own, has unleashed the armies of Hell to hunt Jason down.
But there are things about Jason that not even he knows, and he'll face hard truths and bitter choices as he struggles to find his place in a world redefined. Will he rise to the challenge, or, when the time comes, will he falter?
From Renaissance Florence to the French Revolution, from World War II to the modern streets of New Orleans, The Dark Man's Son is a riveting journey filled with unforgettable characters, wry humor, dark twists, and a touch of romance.
The Dark Man's Son
By Meg Whitlock
Guardian Chronicles #1
Genre: urban fantasy
ISBN: 9781476329390 Smashwords/iBooks/Sony only
ASIN: B0088RTUJO
BN ID: 2940014752671
Number of pages: 285
Excerpt
"I'm sorry, I just…this is all a bit too weird for me." He rubbed the tattoo on his upper arm like he did when he was anxious or deep in thought. She caught the gesture, and her eyes narrowed.
"Interesting tattoo," she said.
"Huh? Oh, yeah. I designed it myself."
"Did you?" she murmured. "Hmm." She took a few steps closer, and the whisper-soft feel of her gloved fingers against his skin surprised him. "What was your inspiration?"
"Um, you know, just…life? I don't know, really. I wanted a tattoo, and I wanted something different. I sat down and started doodling, and this is what I came up with."
"Hm," she said again. Her expression turned quizzical, and she cocked her head to the side like a curious bird. "What do you do, Jason? When you're not being attacked by demons or overwhelmed by an old man's minutiae, I mean."
He had to smile at the way she phrased it; it was the first genuine smile he could remember since hearing about his grandfather's death. His navy eyes warmed and a dimple appeared in his left cheek; a shallower one flashed on the right. Her own mouth curved helplessly in response. "What's so funny?" she asked.
"Nothing," he said with a shake of his head. "Everything. I don't know. But to answer your original question, I work with wood. I guess you could call me a carpenter."
"Like my brother," she said.
"That creepy guy's a carpenter?"
She made an impatient gesture. "No, of course not. My other brother."
Somehow his mind made the impossible leap, and shook his head again at this new madness. "You're insane. Are you trying to tell me your brother—"
"I'm a child of the Divine," she said in that same serene, implacable tone. "So was he. Different, of course, but the same." She shrugged a little. "There were many before him, a few since, and there will be more. It's just the way of things."
He didn't have an answer to this, but she didn't seem to expect one. "The creature you met last night—what did he call himself?"
"Luke."
Her expression turned sour. "Of course he would. Luke. He employs a thousand tiny cruelties. Do me a favor: next time you see him—and there will be a next time, I'm sure of it—call him Cassius." Her eyes seemed over-bright, and her next words were brisk. "As for carpentry, he's incapable of creating anything. He exists only to rot and destroy."
"He called you a bringer of nightmares."
She wandered away and began to carefully sort through some of the books he'd culled from the deeper parts of the library. "Yes. He would. To his kind, I am a nightmare."
Jason ran frustrated hands through his hair; scraped it back off his forehead and tugged hard. "Could you please just explain to me what you are? I've been trying to find some sort of clue, but it's like no one has ever heard of you."
"I told you last night that we keep a low profile. It's necessary when you've existed…as long as we have."
"Enough with the riddles, lady—Claire or Alex, whatever your name is! I'm tired of these mind games. I just want a straight answer."
She cleared her throat and stroked a leather binding. "Your grandfather seems to have an extensive collection of books on demonology, mythology, and religion."
"Yeah, I noticed that. So?"
"Some of these are quite rare. Look at this. I haven't seen one of these in centuries." She held up a thick book, its binding dark and cracking with age, but Jason ignored it.
"You mean…no one's seen one of those in centuries. Like…reports and stuff haven't mentioned it. Not you, personally."
Her jade eyes—flashing gold, like he'd noticed last night—met his, and the expression there terrified him. "I'm a daughter of the Divine, Jason. Do you have any idea what means?"
"Obviously I don't. Why do you think I've been begging you for a little clarification?"
Her mouth lifted at one corner. "You won't believe me."
"I already don't believe half the stuff you say. I don't know how much worse it could get."
She turned away and very deliberately set the delicate old book back on the table. When she faced him again, her eyes were entirely gold, no trace of the green. Jason blinked. "Your…eyes…? What…?" A trick of the light, it had to be.
"It's not a trick, Jason." She took a step toward him, and he pushed away from the desk and backed up. She kept advancing; he kept retreating. She stopped and sighed. "You've no reason to fear me."
"You're joking, right? I watched you beat up a guy three times your size. I met that freak show who calls himself your brother. Now you're standing in my grandfather's library with color-change eyes claiming that you remember a book from centuries ago. Either one of us is seriously unhinged—"
"Or it's all true," she said gently.
"I was gonna say 'or we both are'."
She pulled the desk chair out for him. "Sit down, Jason." She claimed one of the chairs near the fireplace and dragged it closer. "We need to have a serious talk."
Playlist
1. "I'm on Fire" – Bruce Springsteen
2. "This is Nowhere" – The Airborne Toxic Event
3. "When and If" – Ari Hest
4. "Dream About Flying" – Alexi Murdoch
5. "Set Fire to the Rain" – Adele
6. "Knocked Up" – Kings of Leon
7. "The Pretender" – Jackson Browne
8. "The Cave" – Mumford & Sons
9. "Evil is Alive and Well" – Jakob Dylan
10. "The Ballad of Love and Hate" – The Avett Brothers
11. "Devil Inside" – INXS
12. "One More Hour" – Ari Hest
13. "The Question" – Jeremy Aggers
14. "Porcelain" – Better Than Ezra
15. "Fountain of Sorrow – Jackson Browne
16. "Laundry Room" – The Avett Brothers
17. "Nemesis" – David Gray
18. "C'mon Baby" – Bob Schneider
19. "State of the Union" – David Ford
20. "Beautiful Mistake" – Better Than Ezra
21. "White Blank Page" – Mumford & Sons
About Meg Whitlock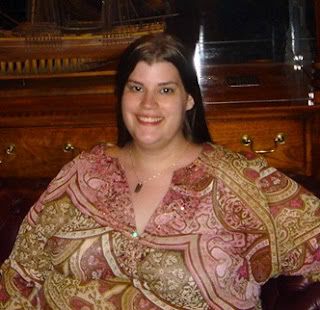 Meg Whitlock has been writing nearly all her life, and she's glad she finally got over her laziness and wrote the book she's been dreaming about for years. She graduated from Queens University of Charlotte with a BA in Comparative Arts with an Art History specialization and an Ancient History minor…which is a mouthful no matter how you say it. She has four cats (including an invisible one), a car named Babar, and a vivid imagination.
In 2001 her one-act play, "The Shoebox," was produced by Catawba College in Salisbury, NC and presented at the American College Theatre Festival. She was honored by Art:21 and the Mint Museum of Art for her essay "Kara Walker: Using Stereotypes to Provoke Thought," and she's won awards for both her fiction and non-fiction writing.
Twitter: http://www.twitter.com/megwhitlock
Facebook: http://www.facebook.com/megwhitlockwrites
blog: http://blogbymegw.blogspot.com
goodreads: http://bit.ly/NrUEZy
Giveaway!
Leave a comment for one entry and tell me what extra tasks you did!
Optional/Additional Entries:
+1 Follow @whoopeeyoo on Twitter
+1 Add me on Goodreads (whoopeeyoo)
+1 Subscribe or follow this blog
+1 Tweet about the giveaway and mention @whoopeeyoo
+1 Follow @megwhitlock
+1 Like Meg Whitlock's FB page
+1 Add or follow Meg Whitlock on Goodreads
So easy! Good luck to all of you!
Follow the Tour!
Click on the tour banner at the top of this post to see the schedule. Each stop hosts a giveaway so join all for more chances to win!