Yipee! Been so excited to bring this novel to you guys. So without further ado, here is Doll House by Anya Allyn! What a wonderful name!
About Doll House
She searches the wild forests for the remains of a friend who vanished there on a hiking trip. What she discovers is the terrifying answer to what really happened to her friend. And now there's no way back and no way out.
For fifteen year old Cassie Claiborne, there's only one good thing about moving from steamy Miami to the wild inland forests of Australia–the even wilder Ethan McAllister. But Ethan already has a girlfriend–Aisha Damaj–the girl with a hundred different moods a minute.
When Aisha goes missing on a hiking trip in the local mountains–presumed dead–the whole town points a finger at Ethan.
Cassie defends Ethan fiercely. She's just about the only friend he has left. But is Cassie letting her feelings for Ethan cloud her judgment?
Does something dark lurk out there in the forests? Aisha isn't the first girl to vanish there in recent years.
There's only one way to find out–go back to the forests.
Book Trailer
My Review
Is it just me or is the cover eerily freaky? Seriously, I think it will haunt me one of these days in my sleep. Three doll-like girls, ugh, I can't go anymore. So let's put the cover critique on the backseat and proceed with the review proper.
Woah, just woah. This book reminds me of Veronica Mars, with a younger cast. And if you don't know since I think I've never mentioned it before, I love Veronica Mars. Even though I started with The Little Prince, my earlier years into reading were spent reading Nancy Drew and Hardy Boys. I am a mystery buff through and through. I love YA because I'm a girl and I'm a teenager but I worship fantastic mysteries as well. So when you combine two of my favorite genres, YA and mystery, I'll have it bad. Add supernatural/paranormal/horror, I'm a lost cause. I had it bad, with this book. A murder, a best friend, a boy. Gah, it makes my spidey parts tingling with excitement!
Sure, the characters are a little bit young for me. I'm turning 19 and they're 15 so I am not sure I am part of the target audience of this novel. But I digress, I am part of the target readers for this. I insist! Haha! I mean, if it's this scary, it shouldn't be solely targeted for tweens/teens, right? I can see each chapter being an episode of a TV series and look, it has chapter titles for episode titles already! Can't you see I just adore this book so much? I also sensed some Harper's Island vibes while reading this. Anyone familiar with that show?
Anyway, as for the writing. Anya Allyn needs to complete the trilogy asap. Her writing is so full of descriptions and she doesn't use the same words over and over again. Case in point, this passage: "Ouch!" Ethan rubbed his ribcage. His face creased into a smile, showing slightly snaggy teeth that made my blood caramelize. So full of adjectives and creativity. I would love for my blood to caramelize at a sight of said boy. Heehee. It doesn't help that I pretty much love the names of the characters. I think I am spazzing and fangirling so much over this book.
Cassie tells the story and I don't want to freak you out that much so I left out some of the scariness. But it is definitely spooky, much like that eery cover. Gah!
Doll House is the first book to a trilogy but it can be read as a standalone so I am mighty curious as to what will happen in the next books. Giddily excited!
So it's pretty obvious, read this book! I recommend it! Buy this book! Support the author! Let's talk about it once you read it! Hope this review helped you convince to read the book!
About Anya Allyn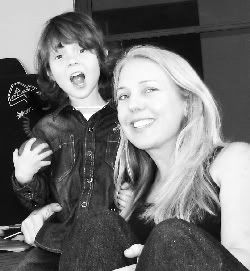 Anya Allyn lives near the beach an hour north of Sydney, Australia. She loves anywhere outdoors that is natural and wild. Or anywhere indoors where Black Forest Cake is on offer. She has four amazing boys and enjoys their energy and happy-go-lucky spirit, and wishes she could plug into some of that energy on days when her 'get up and go' has packed up and gone! She is a former Features' Editor/Community Manager for a media organisation in Australia. The idea for Doll House was born after a trip to the beautiful Barrington Tops region of Australia–sparked by places there such as Devils Hole, Ladies Well and Thunderbolt's Way.
Follow the Tour!
Click on the Bewitching Book Tours banner and find the schedule. I'll update it when a Doll House tour banner is already available. :)